This is a story shared by Krista Hopfauf, Owner/Operator of SalvEdge Boutique, a clothing consignment business currently operating in Victoria Park.
It's been nearly six years since the devastating flood of 2013 but sometimes it feels like yesterday, especially the moment another tragedy or hardship strikes.
Empathy comes more naturally now. Disasters never fail to ground you with the realization that some things will inevitably be beyond your control, and potentially leave you helpless and at risk. When something like the flood happens, knowing that there will be people to help you get through it offers peace of mind.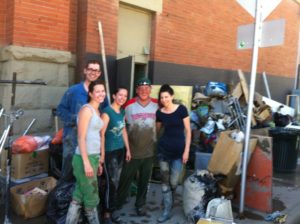 When neighbourhoods were evacuated and the flood waters hit the streets, I wasn't even in the city. It was a weekend away, highways were closed and there was nothing to do but panic and wait (which was probably the worst part).
When I returned, I remember opening the door to my shop with the kind of fear you feel deep in your gut. I had one of my sisters in tow for moral support and we took action the first moment we were allowed back into downtown.
What will I do if the damage is so bad I can't recover? This small business that I loved and worked daily to build and maintain could be gone.

That vulnerability and fear not only weakens you, it also makes you stronger.
My shop was a mess but it wasn't beyond repair, so I count myself one of the lucky ones. Business was severely disrupted with a temporary closure and a temporary move for proper cleanup, but the support business owners received from the City made us feel like we weren't alone.
We were all fighting together for our homes and businesses that were affected. And, for that, I can't just look back on the destruction and think of it as one of the worst moments I've experienced (even though it was) but also as one of those bittersweet times where you feel more connected to a community than you ever did before. I owe this feeling to the support from family, neighbours, friends, media and the City.
Do you have a flood story to share? We want to hear it. Email us at info@floodfreecalgary.com.