This is a story shared by Margot Coppus, a current resident of Elbow Park.
On Thursday, June 20, 2013 in the early afternoon, an announcement came through over the intercom at my office that anyone living in Elbow Park should go home and get ready to evacuate.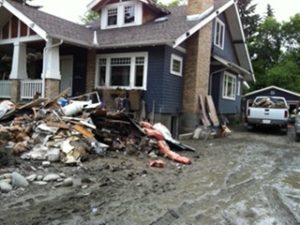 By the time I got home, the sun came through and things did not look so urgent, but we took our truck (already fully packed for a vacation starting the next day) to our daughter's home in Mount View. We barely made it across the Reconciliation Bridge, which was about to get flooded.
We watched the news all evening with reports of the rising waters.
The next day we tried to get a close look, but we could not get any closer than the Elbow Park school and the views from the pathway in Park Hill did not look promising.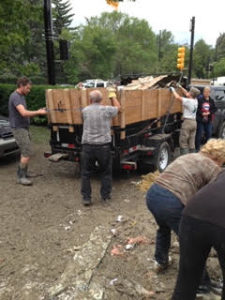 On Saturday, we finally were able to get to our house. Elbow Drive was still flooded and one look at our driveway showed the basement door being ripped off its hinges, water still at least 6' in the basement.
On Sunday morning, we came home armed with a pump and family members to start the clean-up. Miraculously most of the water had already drained, leaving a few inches of mud behind. Bookcases, wardrobe closets were knocked over, the freezer was turned over, its contents floating in the mud. We found backpacks, skis, photo albums in our backyard.
We were one of the lucky ones: our main floor was not affected. With lots of volunteer help, we tackled the cleanup.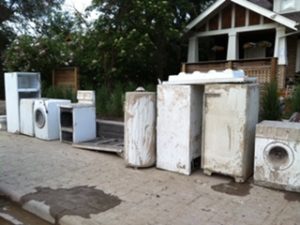 What stays most in my mind is the generosity of so many total strangers helping out in any way they could, from handing out cleaning supplies, water, and sandwiches to shoveling muck. An elderly farmer and his wife came by with a nice new truck and started loading our muddy pile into it to bring it to the dump.
Do you have a flood story to share? We want to hear it. Email us at info@floodfreecalgary.com.