The rainfall warnings we experienced in late-June hit a nerve for many Calgarians. When anxiety and fear run high, we can turn to data on weather and river conditions to help provide peace of mind.
We've compiled quick-links for you to access information on current conditions and warnings.
Alberta River Basins by the Government of Alberta
The Alberta River Basins application allows you to view all current surface water data for Alberta. Obtain the latest information about Alberta's rivers, including low flow advisories, flood advisories, ice jam advisories and comments issued by Alberta's River Forecast Centre.
Here are some examples of the data that was available during the late-June rainfall warning:
We recommend downloading the Alberta Rivers app and its features include:
View all monitoring stations on a map
Tap stations to view current data and whether flows are low, normal, or high
Receive notifications when new advisories and comments are issued
Save your own list of important stations for reference
For comparison, you can view the historical flow rates for the Bow and Elbow rivers on the City of Calgary's website.
The Weather Network
Check The Weather Network for the latest weather advisories. Stay ahead of storms with notifications alerting you as weather events approach your saved locations, and watch the weather system with satellite and weather radar maps.
When you download The Weather Network app, you'll immediately be prompted to set your location. Click on the bell icon to set up your custom alerts for weather events including thresholds (e.g. rainfall amount).
App features include:
Custom weather notifications for your individual North American locations
Severe weather and storm alerts to notify you when a storm is heading your way. Alerts can include rainfall, lightning, snow, temperature swing, etc. A red alert banner will be displayed on the affected cities and regions with the ability to click-through for more info
Follow-me functionality that automatically detects the forecast within 1km of your location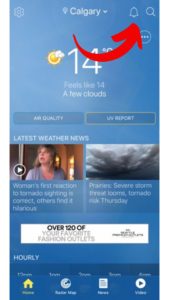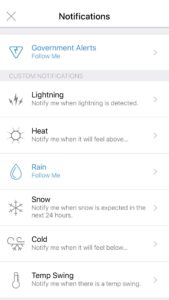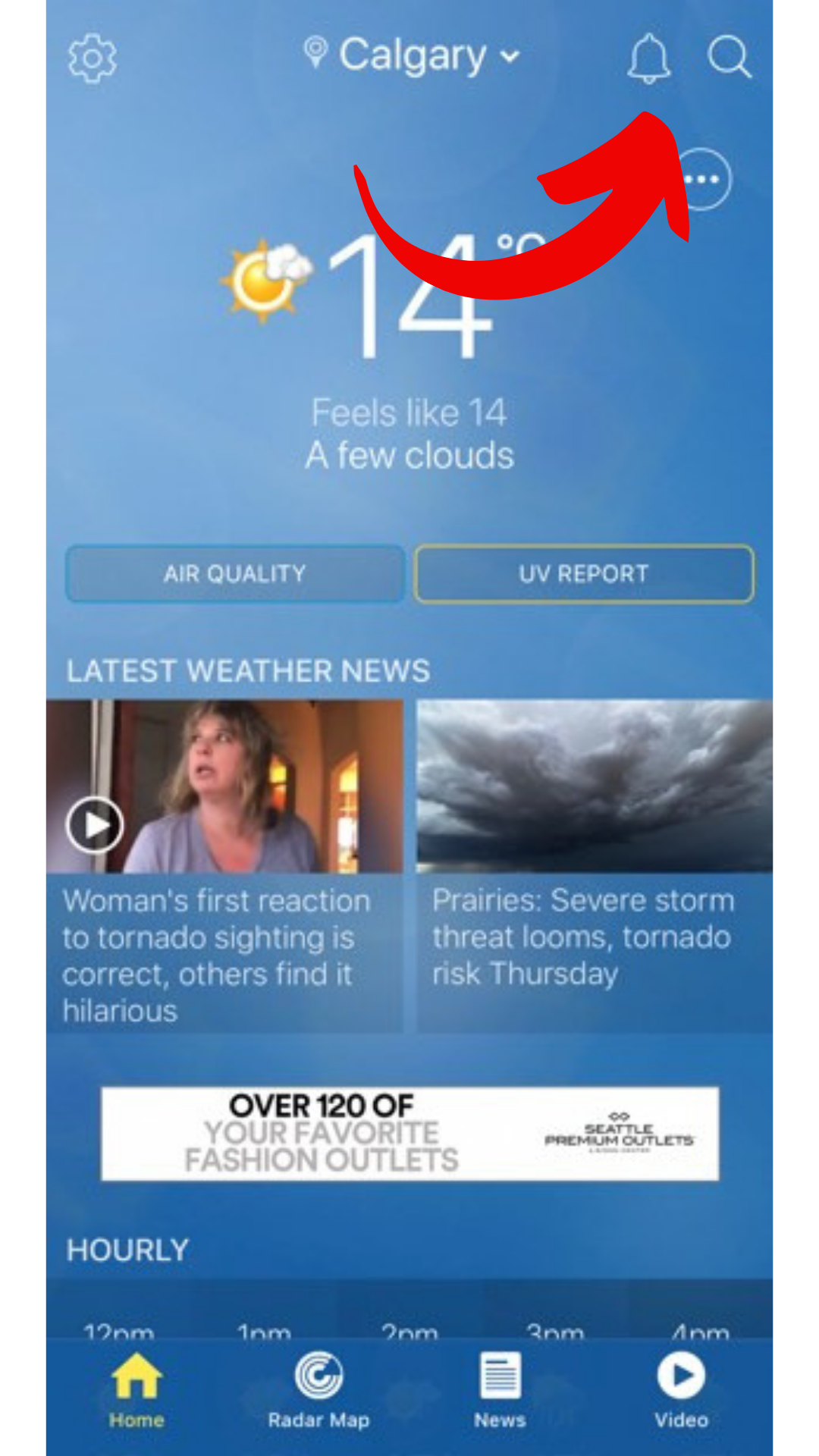 Connect on social media:
Environment Canada
Check Environment Canada for weather advisories posted by the Government of Canada including warnings, watches and statements, and weather summaries.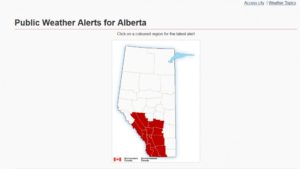 Download the WeatherCAN app from Environment Canada and it will alert you to weather notifications in your location, however, it is less customizable than The Weather Network's app.
App features include:
Current conditions, hourly and 7-day forecasts for over 10,000 locations in Canada
Push notifications for all weather alerts issued by Environment and Climate Change Canada for your location and saved locations anywhere in Canada
Connect on social media:
And, in a similar vein, we're also providing you with links to emergency alert websites and information below.
Alberta Emergency Alert from the Government of Alberta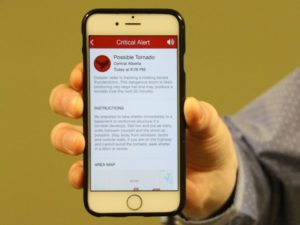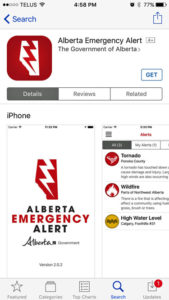 Alberta Emergency Alerts (AEA) are issued by the communities where a disaster or emergency is occurring. Alerts interrupt local broadcasting on television and radio stations with information about the emergency.
By signing up to receive this information directly, you will be better informed about potential risks to your health, safety or community.
Download the AEA app to a smart device to receive notifications
To receive text message alerts to your phone, text Follow AB_EmergAlert to 21212
Connect on social media:
You can also view all Alberta emergency alerts and advisories including AMBER alerts, fire bans, advisories, and wildfire status online at: alberta.ca/emergency-alerts-advisories.
Alert Ready from Government of Canada
Alert Ready is Canada's emergency alerting system. Alert Ready delivers critical and potentially life-saving alerts to Canadians through television, radio and LTE-connected and compatible wireless devices.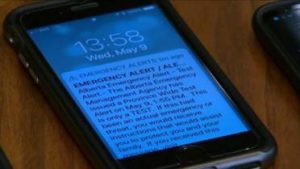 What is the difference between the Alberta Emergency Alert app and Alert Ready wireless system?
Only the most serious alerts will be sent out using the Canada-wide alert system "Alert Ready". Other alerts that provide information on developing emergencies or serious alerts from other areas will be delivered to you via the AEA app, social media, and the AEA website.
The Alert Ready message will only contain basic information, and maps and more details will be available from the AEA app and website.
We recommend you check your phone's compatibility to ensure you'll receive these critical Alert Ready notofications when the time comes.
City of Calgary
In the event emergency response measures are needed, The City will share information via local media, social media and on The City's website.
For flood- specific news, subscribe to the City of Calgary's flood readiness newsletter — the most recent issue was published on June 20. For more flood resources, check out our 2019 flood season guide.
We hope this guide has been useful to you. We recommend setting up these resources in advance so they are in place should an emergency arise.
Stay safe out there, Calgary!
Questions? Comments? Reach us at info@floodfreecalgary.com.