The Province has submitted its responses to regulatory information requests relating to the Environmental Impact Statement (EIS) for the Springbank Off-Stream Reservoir Project (SR1).
The 8,000-page document, compiled by Alberta Transportation, provides responses to information requests from Alberta Environment and Parks (AEP), the Natural Resources Conservation Board (NRCB) and the federal Canadian Environmental Assessment Agency (CEAA).
The response answers nearly 600 questions posed by regulators since June 2018, including benefits and costs, land use, Indigenous consultation, water and hydrogeology and environmental impacts.
Links to all responses are available online: Response to Supplemental Information Requests.
Additionally, the province has published a Springbank Off-stream Reservoir Update – Summer 2019 with up-to-date information on the project and next steps.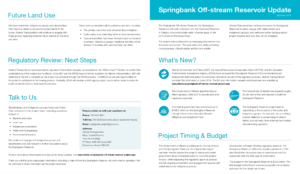 Questions? Comments? Reach out to us at info@floodfreecalgary.com.