It is officially that time of year when Calgary is most likely to experience river flooding. Flood season in Calgary runs from May 15 to July 15, and this year we will also observe the sixth anniversary of the Southern Alberta Floods.
During flood season, there is a lot of media coverage and often new or updated flood resources are released. To keep you connected to critical resources and information, we've compiled a flood season guide for you that we will continue to update throughout flood season.
For progress updates on upstream mitigation efforts check our recent blog posts on the Bow River and Elbow River projects.
Resources
City of Calgary
Throughout the year, you can visit calgary.ca/floodrisk for flood information. Browse the City's historical flood data and current river monitoring activities, learn how to prepare for a flood and where to get emergency alerts, and get updated information on local flood mitigation projects and the City's overall Flood Resilience Plan.

This year, the City released two new resources to kick-off its flood readiness campaign: a river flooding story map and flood-themed walking tours.
We highly recommend checking out the story map to get a sense of the risk flooding poses to different areas of the city. The map is searchable so you can check your home, work, travel route, etc.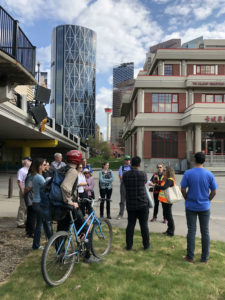 We attended the Eau Claire walking tour on May 22 and were impressed by the amount of information packed into the one hour.
The tour discussion was not limited to only the Eau Claire mitigation efforts but also covered efforts throughout the city in Sunnyside, Bowness, Heritage, Pearce Estates, and more.
View our video recap of the tour on our Instagram highlight reel "Local Projects".
For additional information, you can sign up for the City's bi-weekly flood e-newsletter and download the Flood Readiness Guide.
Calgary Emergency Management Agency (CEMA)
CEMA's Disaster Risk Explorer is a new online website where Calgarians can find educational material on the type of risks and how to mitigate the impacts.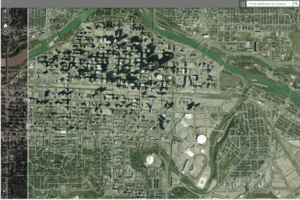 The website covers 11 risk categories including river flooding, winter storms, extreme heat and cold, tornados, and more; with many links and resources provided within the tool.
We recommend checking out the searchable flood inundation map to see how the city looked during the 2013 flood.
← Click the photo to see how the map works!
Events
In May, water management issues took front and center at city council over two days mid-month. Council participated in a day-long strategic meeting devoted to watershed management issues and, later that week, City administration gave their annual update on Calgary's Flood Resilience Plan.
Read our update on both council meetings here: Spotlight on water management at City Council
Events throughout May included Disaster Alley, a flood-themed Jane's Walk in Sunnyside, a speakers panel on water sustainability at the University of Calgary, and the City's flood-themed walking tours.
Upcoming events:
The next Bow River Basin Council Quarterly Forum and AGM is scheduled for June 12th, 2019 at TransAlta (9:00 am to 3:30 pm). Attendance is free. Registration is required.
A few of the presentations planned for the event include:
SAIT Water Sustainability Program – Pablo Pina, SAIT
Calgary Healthy Rivers StoryMap – Sarah Marshall, The City of Calgary
Elbow River State of the Basin Project – Flora Giesbrecht, ERWP
Glenmore Dam Modifications – Steven Dold, The City of Calgary
These forums are a great resource for watershed information. To get a sense of what you can expect, check out the October 2018 forum summary from CRCAG.
Media coverage
To keep you in-the-loop with all the flood season media coverage, we've curated all links here. We'll keep updating this list as additional coverage is published.
Airdrie Today
Calgary Herald
Calgary Sun
Canadian Underwriter
CBC News
City News
Cochrane Times
CTV News
Daily Hive
Global News
Globe and Mail
Journal of Commerce
Rocky Mountain Outlook
Star Metro
If there is anything else you'd like to see in this guide – let us know!
Questions? Comments? Reach us atinfo@floodfreecalgary.com.