In May, water management issues took front and center at city council over two days mid-month.
Watershed Management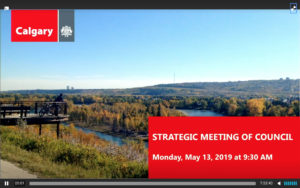 On May 13, during a day-long strategic meeting devoted to watershed management issues in the Calgary region, council discussed access to clean drinking water, stormwater and wastewater management, and overall water security for the city.
The most attention-grabbing takeaway from the day related to Calgary's provincial limit on daily water withdrawals (water licenses) from the Bow and Elbow rivers.
"Not to put too fine a point on it, but by about 2036, we're going to hit the limit of our water licence particularly on hot days in the summer and the water shortages will only increase from there" -Mayor Naheed Nenshi
Currently, the Province is conducting a conceptual assessment of potential Bow River reservoir options; all of which are proposed as multi-use projects with both drought and flood mitigation capabilities.
Flood Resiliency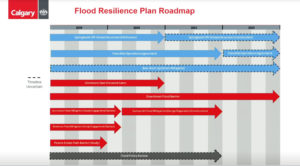 On May 15, City administration gave their annual update on Calgary's Flood Resilience Plan to the Utilities and Corporate Services Standing Policy Committee. This was an opportunity for Council to get an update on the status of various flood mitigation projects. No decisions were made by Council at this meeting, but members of the public were welcome to attend and speak.
Public speakers included members of the Hillhurst-Sunnyside Community Association, the Bowness Responsible Flood Mitigation Society, and a supporter of the Tri-Rivers mitigation concept.
Questions? Comments? Reach us at info@floodfreecalgary.com.