The Natural Resources Conservation Board (NRCB) has approved Canmore's proposed Cougar Creek debris and flood retention structure.
The project has been progressing through regulatory review since Canmore's town council approved the project in 2015.
As we wait for regulatory approval on the Springbank Off-Stream Reservoir (and will eventually need for a project on the Bow River), it is encouraging to see this large-scale flood mitigation project achieve approval.
THE PROJECT
During the 2013 flood, about 90,000 cubic metres of debris inundated Cougar Creek in Canmore, which led to the evacuation of 1,200 residents from 300 homes.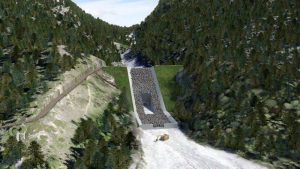 The Cougar Creek barrier will be 30 metres high and 95 metres wide, and will hold back 650,000 cubic metres of water and sediment in a retention basin for a number of hours during a major flood event.
The structure will span a bedrock confined channel and will be comprised of a rock and earth-filled embankment, a reinforced concrete central sealing wall, and an open outflow with a throttle and debris rake.
During normal weather conditions, water and sediment will flow unimpeded through the structure.
The project's construction costs are estimated at $38 million. The provincial and federal governments are contributing $44.87 million for project construction and ancillary activities such as the environmental impact assessment, structure design and dam safety review.
NEXT STEPS
A few things still need to happen before this project has the true "green light."
The NRCB decision outlines that "subject to receipt of the necessary authorization of the Lieutenant Governor in Council, the Board grants an approval in respect of the Town's application for the Project."
The project will also require approval under the Water Act, for which Canmore submitted an application in July 2016, and a land disposition agreement with Alberta Environment and Parks (AEP)
Once begun, construction is expected to take 30 months.
RESOURCES
Questions? Comments? Email us at info@floodfreecalgary.com.