The deadline for public feedback on the three short-listed Bow River reservoir options closes at 4 p.m. on October 31.
This is an important opportunity for stakeholders to get their feedback on record. That includes all Calgarians who would be protected from future flooding by the selected reservoir.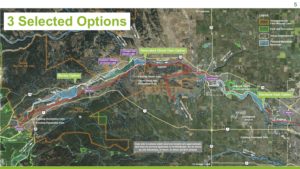 AEP's Bow Basin Water Management Options project has narrowed its selections for a new reservoir on the Bow River to three top choices:
New Glenbow reservoir
New Morley reservoir
Relocated (and expanded capacity) Ghost River reservoir
Anyone who was unable to submit their feedback in-person at  AEP's three open houses earlier this month can do so online at https://talkaep.alberta.ca or via email at aep.bowbasin@gov.ab.ca.
You can find additional information on the BBWMO project at https://talkaep.alberta.ca.
For questions or to provide feedback, contact aep.bowbasin@gov.ab.ca or 403-355-2491.
Questions? Comments? Reach us at info@floodfreecalgary.com.