In reflecting on 2019, we'd like to offer a big thanks to all of our supporters for their attention and advocacy this year.
We can't do this important work without you and the achievements listed here are, in part, due to the sustained effort of the Flood Free Calgary community and the many other organizations we work alongside. So, thank you!
The work we do on these flood mitigation files is often detailed and complex, with many incremental achievements contributing to progress, but here are a few of the standout developments worthy of attention.
Key 2019 achievements
Although 2019 may have felt like a year of painfully slow regulatory progress, there were a number of significant developments to be thankful for.
1. Bow River upstream reservoir options announced
In 2019, the Bow Basin Water Management Options project conducted a conceptual assessment of 10 upstream reservoir options and ended the year with three shortlisted options. A feasibility study of the three shortlisted options will follow (estimated 2-3 years) and will produce a single preferred option.
Six years on, the announcement of reservoir options for the Bow River and the kickoff of the public consultation for the project is big news, indeed.
2. Federal government earmarks $168.5 million for SR1
In mid-March, the federal government announced it will provide $168.5 million (via Infrastructure Canada's Federal Disaster Mitigation and Adaptation Fund) to help fund SR1 on the Elbow River.
The $432 million required for the project had previously been allocated in the provincial budget, but this announcement of federal funds was very good news.
3. Robinson family agrees to sell land needed for SR1
In January, the Government of Alberta announced that Springbank landowners, the Robinson family, had agreed to sell the land required for SR1.
This was a promising development given that the Robinson land was in the heart of the project area, and added to what is now over 20% of the required lands being owned by the province. The Government continues its extensive discussions with numerous first nations and with affected landowners to reach negotiated solutions for land acquisition.
4. Alberta Transportation submits responses to SR1 regulatory information requests
In June, Alberta Transportation submitted 8,000 pages worth of responses to both provincial and federal information requests relating to the Environmental Impact Assessment (SR1) for SR1.
Provincial regulators accepted the responses have moved on to Round 2 questions, however, the federal back-and-forth continued into December when final Round 1 federal answers were submitted.
The regulatory review for this project is considerably behind schedule (according to the most recent timeline), so hitting this milestone is relieving.
5. Completion of key local flood mitigation projects downtown
In 2019, three local flood mitigation projects critical for protecting the downtown core were completed: West Eau Claire Park, the Centre Street Bridge flood barrier, phase 1 of the Eau Claire Promenade (phase 2 being the Downtown Barrier).
Notable mention: Flood Coalition
In January, Flood Free Calgary joined forces with fellow flood advocacy group, Calgary River Communities Action Group (CRCAG), to host a community forum on flood mitigation and to kick-off a flood coalition in support of upstream mitigation.
Throughout the year, the coalition published flood stories from residents and businesses.
2020 milestones to expect
1. Glenmore Gates completed in Spring 2020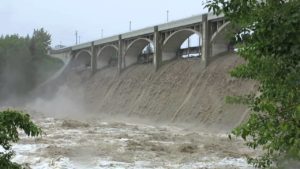 Upgrades to the Glenmore Dam began in 2017 including the installation of a new steel gate and hoist system that would increase the capacity of the reservoir.
Construction will be complete in Spring 2020 (in time for flood season) and the improvements will double the flood storage and offer 20% additional protection for the Elbow River.
2. SR1 federal regulatory review moves to Round 2
For any Environmental Impact Assessment (EIA), it is expected that there will be multiple rounds of information requests from the regulator(s).
The Round 1 information requests were first posed in June 2018 and Alberta Transportation's final responses were submitted in December 2019 (18 months later).
There is no public hearing for SR1 under the federal review and regulatory guidance and approval will follow the completion of the EIA process.
3. SR1 provincial regulatory review moves to public hearing
As SR1 progresses through the EIA, the project is subject to questions from both federal and provincial regulatory bodies. However, because this is not a joint regulatory review process, the timing for the various steps to be undertaken by each of the regulators will vary and may not align.
The provincial review by the Natural Resources Conservation Board (NRCB) is currently in Round 2 of information requests and it is expected that a third round of questions will be posed during the public hearing on the project (expected in Q3 or Q4 of 2020).
4. Construction of the Downtown Barrier to begin
The Downtown Barrier is phase 2 of the Eau Claire Promenade and construction is expected to begin in July 2020 with completion anticipated sometime in 2022.
The project will extend flood protection from Eau Claire Market, through the Centre Street Bridge, to Reconciliation Bridge and the entire system will offer 200-year flood protection.
5. Feasibility study for Bow River upstream options
The scope of the phase 2 feasibility study will be to assess the viability of the three shortlisted reservoir options before arriving at a recommendation for a single preferred option.
Phase 2 is expected to take 2-3 years putting completion in 2023. However, there are currently no funds budgeted for phase 2. Alberta Environment and Parks is working on securing funds and hopes to avoid project delay.
Challenges
But it's not all good news, here are two of the biggest challenges facing flood mitigation efforts:
Budget concerns as a result of the 2019 provincial budget (for a detailed summary of anticipated impacts read CRCAG's 'Budget concerns for flood mitigation projects' blog post)
Any selected Bow River upstream project will be subject to newly implemented Bill C-69 standards for regulatory review. Thorough public consultation from the start will be critical to the project's success. (Please participate in all opportunities we alert you to!)
Again, thank you for your support in 2019. In 2020, let's keep pushing to protect our city and to protect our collective economic prosperity.
Questions? Comments? Reach us at info@floodfreecalgary.com.