Things ramped up quite a bit in March and April with the lead-up to the election. We were in close communication with fellow advocacy group, the Calgary River Communities Action Group, and together we connected with many election candidates to educate them about flood risk and upstream mitigation projects.
There were a few funding announcements including a $1 billion pledge from the former-NDP government for projects on the Bow River, $168.5 million federal funds announced for the Springbank Off-Stream Reservoir, and additional ACRP funding for local mitigation projects on the Bow River.
We've summarized updates below and you can read each item in more detail on our blog.
Upstream mitigation post-election: What happens now?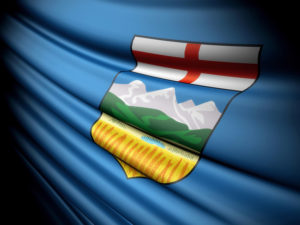 Now that April 16th is behind us, and we all know we will be moving forward with a new UCP government, how will flood mitigation projects be impacted by changes to come?
Will SR1 be further delayed? Who will lead key ministries? What's next? We answer this and more on the blog.
Downtown Barrier designs revealed at Eau Claire open house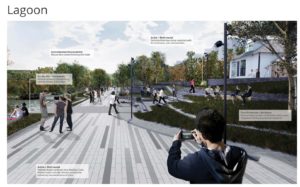 The city has revealed preliminary designs for the Eau Claire Public Realm Plan including the Downtown Barrier, a critical piece of infrastructure that will extend flood protection from Eau Claire Market, past the Centre Street Bridge, to the Reconciliation Bridge.
We've recapped the April 13 open house including the designs for the barrier and Eau Claire area projects. Read more.
Public invited to Flood Free Calgary presentation in Chinatown on May 9
Flood Free Calgary has been invited to present to the Chinatown community about Calgary's need for upstream flood mitigation and the status of projects on both the Bow and Elbow Rivers.
This is a public event and all are invited to attend. Details here.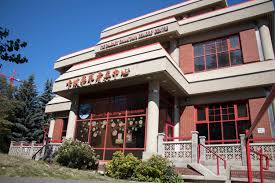 We met with the Inglewood community in April (recap here) and are looking forward to in-person discussions with the Chinatown residents and business-owners; a community so heavily impacted by flooding from the Bow River in 2013.
We'd be happy to meet with your organization or community to discuss obstacles and opportunities to getting critical flood mitigation projects built. Email us at info@floodfreecalgary.com to find out more.
Funding for Elbow and Bow River mitigation projects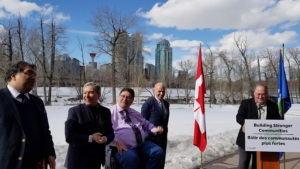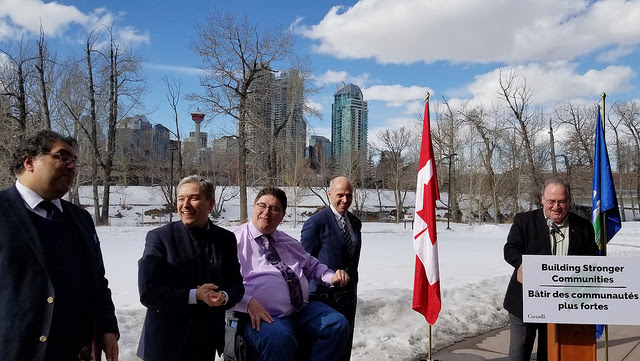 In mid-March, the federal government announced it will provide $168.5 million to help fund the Springbank Off-Stream Reservoir (SR1) on the Elbow River.
Earlier in March, the province announced $15 million funding for Bow River local flood mitigation that will be used towards the construction of the Downtown Barrier.
Feel free to share this information with others (please do!).
Questions? Comments? Email us at info@floodfreecalgary.com.